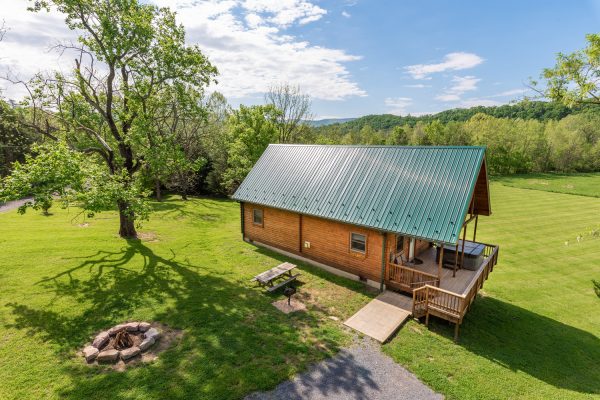 The River Lure is located 7 miles past the Outfitters on 7 spacious acres along with the Angler, Drifter, and Paddler cabins.  Our largest and roomiest cabin–2 levels with 3 separate bedrooms; a large full kitchen for those gourmet meals! Book soon for those beautiful Fall and Winter nights and those fun times this year!
AMENITIES:   Full kitchen, dishwasher, microwave, coffee pot and refrigerator. All the dishes and pots you will need are here. Washer and Dryer for those longer stays. Cable TV, propane fireplace in the living area, AC and heat.  Little cell phone service and no WiFi. Enjoy the sounds of nature.
Main floor: one double, one queen, and a full bath. Upstairs one queen, and a full bath.  Outside amenities:  6 person hot tub on the deck, fire pit, picnic table, charcoal grill.  River access is 200 yards away!
The River Lure is a 'pet free and smoke free' cabin. We have a lock box on the door of each cabin. When paid in full, you get the code and can go directly to the cabin.  No camping at cabins or at river is allowed. Max. of 6 in each cabin. Each additional person will be charged $100/person/night.
Walk or drive down to the Shenandoah River at #20 to swim, fish or play in the River.  Or plan to go back to Luray to see Luray Caverns, hike in the Shenandoah National Park, shop or eat out. Massanutten and Bryce ski resorts are just an hour or so away.  Then back to the hot tub here!
Select the date you will arrive, the dates in between and the day you will depart. We have a two night min on weekends, and 3-nights on some holidays. Make sure the reservation request has the right dates and the correct number of nights. You might have to re-select the days to get the right number of nights.
Fill out the form  and put in the comment section the number of people. Then send it in to us.
We will respond to your email request shortly as we check emails often during the day.  If the request is within 1 week, it is best to call, 540-743-4159
Once accepted, we will email you the Paypal account where you pay for the reservation. We will then send you the confirmation with directions and lock box code for the key.
If you plan to book more than one cabin, you will need to fill out for each one.
Spring & Fall Rates
3/1 to 5/25 & 9/5 to 11/30
$250 Per Night Friday, Saturday
$225 Per Night Midweek
4 nights Midweek $850
7 nights $1400
10.3% tax is not included
*Holidays-$250
NO PETS ALLOWED
Linens/towels $25/bed/visit
(All rates subject to change)
Summer Rates
May 26 to Sept 4
$250 Per Night Friday, Saturday
$250 per Night Midweek
4 nights Midweek $900
7 nights $1500
10.3% tax is not included
*Holidays-$250 (3 NIGHT MIN.)
NO PETS ALLOWED
Linens/towels $25/bed/visit
(All rates subject to change)
Winter Rates
Dec 1 to March 1
$225 Per Night Friday, Saturday
$200 Per Night Midweek
4 nights Midweek $750
7 nights $1200
10.3% tax is not included
*Holidays-$225
NO PETS ALLOWED
Linens/towels $25/bed/visit
(All rates subject to change)
A new COVID-19 wavier for our guests–for cabin guests, you will need to print, fill out for each guests and leave in the cabin when you leave. For our river & campground guests, they will need to do the same and bring to the Outfitters. link here.
New this year due to COVID-19:
The cabin check in time is after 4 PM and check out by 10 AM which gives us more time for cleaning.
All cabin guests need to bring their own towels, bed linens, bedspreads and pillows for their safety.
Wear masks and social distance from other cabin guests in area
Bring hand sanitizer, extra soap
Let us know if you come in contact with anyone with the virus or develop symptoms once you return home for our staff's safety.
Online reservations are necessary for River trips. Numbers will be limited so reserve soon.
Here are our cleaning procedures following CDC standards as they apply to the cabins, the Outfitters Store and our campground.
In our effort for safety for our cleaning crew and our guests–when possible we leave a cabin closed for 24 hr after a guest checks out. The crew then goes in with Lysol spray and spray the cabin. They close it up for 1 to 2 hr before going back in to clean all surfaces with Clorox wipes, Clorox the floors, spray all furniture, beds and curtains and wipe the handles as we leave. The hot tubs are wiped down along with the stair handrails.
For now, be safe, healthy and wash your hands!
Come out to where you can still enjoy the mountains and the river. Bring your fishing pole!
Thank you,
The staff and owners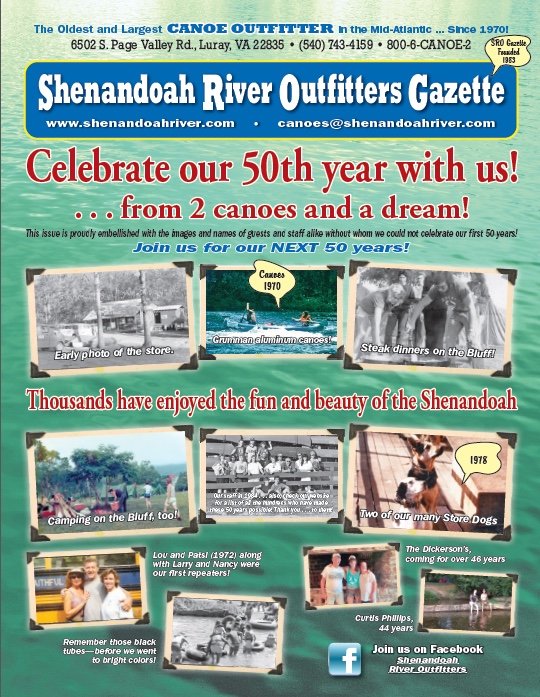 Download our 8-page 
SRO Gazette
-info you can take with you!
Shenandoah River Outfitters, Inc.
Camp OutBack &
Shenandoah Canoe Company
River Log Cabins Rentals

6502 S Page Valley Road
Luray VA 22835
800-6CANOE2 (800-622-6632)
or 540-743-4159
canoes@shenandoahriver.com