Shenandoah River Outfitters & 50 years!
Join us this year!
Our Shenandoah River Outfitter Staff over the years….Since 1970, the BEST Staff you could ever have…Some who have gone their way and many have returned to work and/or play…The First River Families–the Sottosanti's-Joe, Jackie, Michael, Shari, Lisa, Cara; theGoebel's-Nancy, Karen, Christian, Derek, Andrea; the Liscomb's-Don, Dawn, Chance,Sam, Lindy, Amy, Liberty, Mary, Ben Price…the spouses and children- Mike Rowles and Matt, Jackie R. & Mark, Dave Gander & Katherine, Angela, Rachael, Caleb, Josh and Maria, Olin & Isaac Judy, Andrea's Katrina & Samantha Cook, Deidre, Nina. Derek 's Seth Goebel.The cousins–Judy & Jim Naginey, Phil Suarez, Craig Goebel, Arizona Joe Sottosanti,Bryan Horrell. The couples–Charlie & Andrea Rudacille, Irene & Dennis Doruth, Tom &Cathy Cameron, Ron & Shirley Patterson, Byron & Lisa Lipscomb. Lisa and Sam LIscomb, The father & son-George & Mike Sult, Page Wood & Walter Supthin. The brothers-Macki & DannyJenkins, Bob & Jon Braizer, Keith & Darrel Lewis. The sisters-twins-Amy & Jen Knoxand Robin & Shana Scott. So many others…Val Bracegirdle, Eric Svenson, John Zuke,Dave Duggan, Floyd Crese, Margie Shetterly, Bill Farrell, Joe Colye, Dennis Kennedy,Pierce Kelly, Dan Ellerbee, Mike Cook, Mike Shade, Kevin Judy, Jim Cook, Rick Black,Madge Boerio, Dori Rickard, Kelli Sigrist, Barbara Hathaway, Scott Gauthier, JohnnyGray, Janice Dudley Waters,Victor Potter, Gary Lee Good, Dan Sullivan, Brian Hughit,Phil Clem, Jen Gerritsen, Eric Morris, Mike Sites, Heather Sykes, Rob Harris, DebbieColby, David Nicklas, Brooke Wynn, Monica DiMartino, Tony Witte, Chris Donaghy,Alison Molinari, Rob Lowe, Lisa Johnson, Nick Kyriopoulos, Henry Molina, Kathryn Weaver, Bernie Karr, Roberto Coppola, Danny Pates, Glenn Taylor, Reta Crone, PaulHelbert, Rick Bickerstaff, Angela Cromer, Crystal Foltz, Michelle Clark, Mary Tropea,Chas Haywood, Rob Morris, Tim Jenkins, Dean Raat, Nicole Barefoot, CourtneyBeeton, Robby Routhier, Todd Sethman, Nick Carl, Bill Parfett, Cathy GoublemanBogart, Karen Goubleman, Jimmie Olsen, Bill Hartsock, Sue. Brent Nelson (SCC logo).Cory McGownan, Preston Hadley, Quentin Custer, Nora Shaffer, Nick Carl, DianaBrown, Brandon Campbell, Stephanie Carl, Patrick Carl, Chris Brooks, Kevin Campbell,Michelle Curling, Jason Ericson, Sean Finney, Jennifer Holster, Tim Johnson, CortneyMartin, Nicole Martinec. Ryan and Elizabeth McBride, Mark McKown, Seretha Runyon,Nicole Barefoot, Carrsie and Amos Blanton, Mark Crosby, James Love, Tom Dunn,Mark Janney, Matthew Klozik, Adam Parks, Chris Payton, Tina Schafer, ScottShepherd, Gary Weatherholtz, Don Williams, Lois Babel, Jared Cypher, Dave Duke,Charles Froehlich, Becky Hankins, Kyle Herr, John Ketchum, Chris Kiser, Ryan McBride, Jesse Quillian, Dori Rickard, Brandon Riner, Shana and Robin Scott, PiotrSztejnberg, Thomas Szydelko, Ruthanne White, Alex Balton, Tim Carrico, Nathan Downing, Chris Jenkins, Brittany Jenkins, Emily Jesse, Eric Jesse, Sheldon O'Connell,Jason Warner, Jere Clough and Chris, Brian McKenzie, Kest Muhhin, Aleks Sarap,Donna Sibert, Tracey Taylor, Steve Trypuc, Chris Munson and wife Mampe Munson,Matt Armstrong, Stephanie Baker, Shawn Campbell, Michael Drabek, Vladmir Filipov,Christina Raeder, Rachel Campbell, Teale Davies, Dan Driver, Dani Farcasiu, CarolynGander, Jackie Klein, David Leffew, Cassandra McCarty, Matt Pender, AbigailSecondine, Jeff Schenkel, Konstantin Studenkov, Beattie Sturgill, Chris Clough, Michael Patrick, Sandy Dickerson, Taylor Antone, Evan McArdle,Travis & Jacob Bradley, TomMarcais, Tiffany O'Donnell, Travis Painter, Tyler Quinlan, Josh Sullivan, Bo Courtney,Jim Keckley, Zach Mason, Steve Turgati, Thomas Bauserman, Daniel Waters, Erik Fox,Kyle Quinlan, Robby Spade, Doug Ward, Mikey Smith, Alessandro Coppola, DominickCloughlin, Colin Anderson, Karan & Parth Parikh, John Addison, Rachel Alger, Brendt Bolyard, Lisa Liscomb and daughters Lily, Bel & Olivia & sons Chauncey & Ryder, husband Sam, Jamie Marcey, Dan Ammons, Rachel Bauserman, Gary Carter, Dylan Lake, Kurt Latocha, Jacob Payne, Karen Anderson, Charles Gubler, Sean Hurd, Logan Morris Anthony Price, Jimmy Thomas, Hunter VanEtten, David Waters, Marner Yates, Arron Jenkins, Logan Morrison, Bart Smith,Jimmy Thomas, Madison Good,Trystan Martin, Drew Shull, Autumn Bowen, Michael Brown, Anthony & Christopher Dodson,Victoria Dotson, Jeffery Drake, Justin Fletcher, Nicholas Jennings, David Keeler, Ethan Strate,Timonthy Trudall, Michael Brown & daughter Sidnola, Destiny Buchanan, Dominic Harrison, Joshua LaFrance, Lee Mills, Tyler Parlett, Caden Speaks and more to come in the future years!

Our mechanics over the years–Kenny Painter, Alan Long, Jim Gander, Ed Waters,Francis Huffman(Huffy). Musicians Kevin Johnson, hammer dulcimer John V., MikeSult, Jeff, Doug Lee, Rob McDougal , Mokey.and more of the 4 th generation family members–Katrina & Samantha Cook, Caleb,Rachael, Joshua & Maria Goebel, Olin & Isaac Judy, Seth & Forest Goebel., KatherineGander .. . .

SRO Managers-Joe Sottosanti, Mark Stanly, Gary Campbell, Page Wood, Lisa Sottosanti-Gander & asst. Cara Sottosanti. SCC Managers-Bill Gill, George Sult, Mike Rowles & Christian Goebel.

In memory-Joe Sottosanti and Jackie Sottosanti.

Present Owners–Nancy Goebel, Christian Goebel, Nancy Sottosanti, Lisa Sottosanti-Gander, Cara Sottosanti

Thanks to our staff for a great 50 years & more…& Thanks to all our friends who have loved and shared all the many good times on the great Shenandoah River with us…The owners & management

Plan your trip now to meet our present Staff and to experience the legendary, beautiful Shenandoah River…PS Interested in Jobs and joining "our Family"? Mail to:canoes@shenandoahriver.com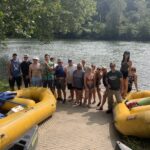 Info you can take with you!
Shenandoah River Outfitters, Inc.
Camp OutBack &
Shenandoah Canoe Company
River Log Cabins Rentals

6502 S Page Valley Road
Luray VA 22835
800-6CANOE2 (800-622-6632)
or 540-743-4159
canoes@shenandoahriver.com