Canoe, Kayak, Tube & Raft Rental Rates (5.3% VA Sales Tax not included in rates)
Beginner White Water or Flat Water
Day trips depart any time between 8 AM to 1 PM. 
Tandem kayaks are priced as canoes.
Flat Water Trip -11:00 AM Midweek Special (Monday-Friday)
11:00 Arrival Only. 3 hrs
Sampler Flat Water Trip-1 hour
Tube Rentals
Cooler Tube Rentals
$25/person
$6/tube for your cooler
You need to arrive by 9:30, 10:30 or 11:30 AM. Trips can take from 3 to 5 hr depending on water levels. Remember shoes for river. Do make reservations, especially for weekends. We offer two sections of the Shenandoah for our tube trips. We decide the day of the trip which section is used based on water levels.
For Fall tubing, plan to come for the 10:30 and 11:30 trips due to the cool early mornings.

Due to COVID restrictions on travel, we doing the section from #8 to #11 this year.

Summer time–Saturday Early Bird Special for Tubes–especially for families, Scouts, Church groups. Arrive by 9:30 and ON THE BUS by 10:00 and you get a $2 rebate at the end of the trip. NO Glass and NO Alcohol. Coolers will be checked. Sign up for regular tube rentals at $22/tube and Get on the 10:00 Bus for your $2/rebate–you must mention this when you sign in.
2 or 3 in Raft
4 in Raft
5 in Raft
6 in Raft
Raft trips can take 3 to 5 hours. Arrive between 9 AM and 1 PM. Do reserve as there are a limited number of rafts. We have 4-man and 6-man rafts. Rafts are great for families with small children as young as 3.
Click here for more information. Cancelled for 2020.
Join us in 2021 for those hamburgers on a saw blade and delicious steaks!
Privacy Policy for Online Reservations
This privacy policy applies solely to information collected by this web site. It will notify you of the following:

1. What personally identifiable information is collected from you through the web site, how it is used and with whom it may be shared.
2. What choices are available to you regarding the use of your data.
3. The security procedures in place to protect the misuse of your information.
4. How you can correct any inaccuracies in the information.

Information Collection, Use, and Sharing –Shenandoah River Outfitters Inc and Shenandoah Canoe Company–(SRO & SCC)–are the sole owners of the information collected on this site. SRO & SCC only have access to/collect information that you voluntarily give us via email or other direct contact from you. We will not sell or rent this information to anyone.

SRO & SCC will use your information to respond to you, regarding the reason you contacted us. SRO & SCC will not share your information with any third party outside of our organization, other than as necessary to fulfill your request, e.g. to charge an order.
Unless you ask us not to, SRO & SCC may contact you via email in the future to tell you about specials, new products or services, or changes to this privacy policy.

Your Access to and Control Over Information–You may opt out of any future contacts from us at any time. You can do the following at any time by contacting us via the email address or phone number given on our website: You can see what data we have about you, if any. Change/correct any data we have about you. Have us delete any data we have about you.Express any concern you have about our use of your data.

Security–take precautions to protect your information. When you submit sensitive information via the website, your information is protected both online and offline. Wherever we collect sensitive information (such as credit card data), that information is encrypted and transmitted to us in a secure way. You can verify this by looking for a closed lock icon at the bottom of your web browser, or looking for "https" at the beginning of the address of the web page.

While we use encryption to protect sensitive information transmitted online, we also protect your information offline. Only employees who need the information to perform a specific job (for example, billing or customer service) are granted access to personally identifiable information. The computers/servers in which we store personally identifiable information are kept in a secure environment.
Updates–Our Privacy Policy may change from time to time and all updates will be posted on this page.If you feel that we are not abiding by this privacy policy, you should contact us immediately via telephone at 800-622-6632 or via email at canoes@shenandoahriver.com.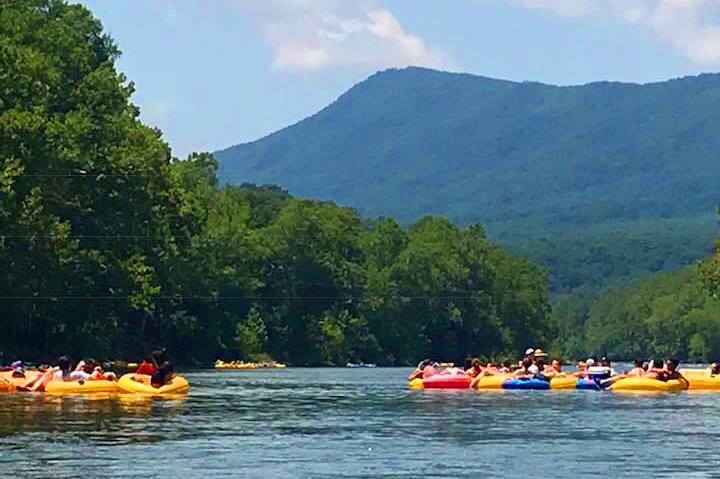 Everyone must sign liability release and view safety video prior to starting trip.
Please read the Liability Waiver
and the COVID-19 wavier
Print out, sign and bring both with you.
View Safety Video ahead of time here:
http://www.youtube.com/watch?v=wfMuJViVpec

Best to reserve in advance online or call.
We do offer shuttle service for those with their own canoes and kayaks. Check the rate page for information.
Deposits for reservations if made by phone for school/Scout/church groups (online are paid in full)
Canoes and Kayaks–$20 each
Rafts–$40/raft
Meals–$20/person
Tubes–$22/person–payment in full
Camping–$10/person/night-with $40/site/night min.–payment in full
Balance of reservation fees to be paid in full 2 weeks ahead of event.
Arrival only at 12, 1 & 2 PM.
Departs  1/2 hr later.
Cancellation is 48 hr/2 days in advance for refund.

Any request for refunds will need to be called in to the Outfitters. 540-743-4159

Refunds are in full up to 48 hr before trip except meals.


No refunds in last week for meals.

We go rain or shine.
Info you can take with you!
Shenandoah River Outfitters, Inc.
Camp OutBack &
Shenandoah Canoe Company
River Log Cabins Rentals

6502 S Page Valley Road
Luray VA 22835
800-6CANOE2 (800-622-6632)
or 540-743-4159
canoes@shenandoahriver.com