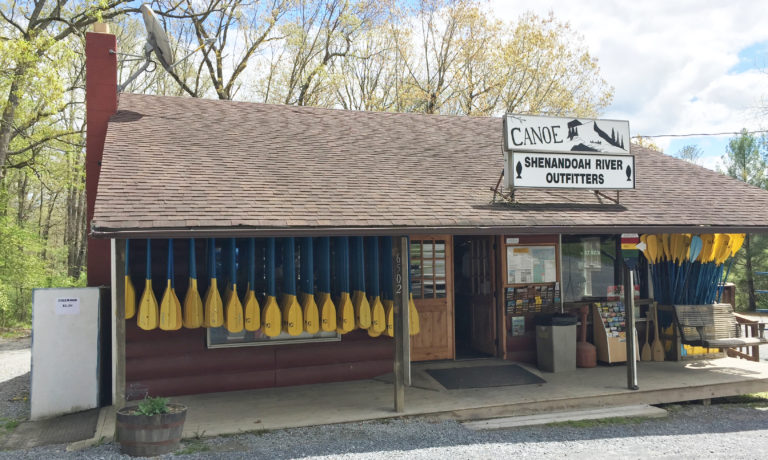 52 years and our Staff  (check out the page of all our staffs over the years)

A brief history of the Outfitters…
Joe and Jackie Sottosanti had moved their family to the Shenandoah River and the mountains in the late '60's. Exploring the outdoors by hunting, fishing and canoeing, captivated Joe and his family. That interest spread to their city-bound friends who began asking for guided fishing trips. About this same time, the Campside Grocery store was for sale. With that purchase in the fall of 1970, Joe, Jackie and Nancy Goebel (Joe's sister) began Shenandoah River Outfitters with two old aluminum canoes and a dream.
From the beginnings as a small grocery with a few canoes, the Outfitters evolved from small guided canoe-fishing trips to outfitted overnight canoe trips. The Outfitters then progressed to 'Canoe and Steak Days' in 1977. The Outfitters added tubes in 1980 as a leisurely way to enjoy the River's flow. Then rafts appeared in the early 90's.


Shenandoah Canoe Company split off in 1976 to manufacture and sell our Royalex-ABS canoes, The Shenandoah Classic & Shenandoah Hawksbill. As canoe materials and styles have changed, the Classic and Hawksbill have endured as standards for durable, elegant, exciting and fun canoes.
The Outfitters began 'Keep the River Clean' programs early. We've expanded into 'Operation CleanWater'-a group cleanup day done every September. With 50 to  100 folks each year, tons of tires, flood debris, etc. have been removed from the River. Our mid-week "River Clean' program continues, too.
In 1995, we officially established Camp OutBack, a 25 site tent campground and 1996 opened our changing/hot shower facility.

then Rental Cabins
In the winter of 1995, we added the Bella Vista cottage as a weekend/week-long cottage rental unit. We built our first River Log Cabins in 1999-the Wood Duck, Blue Heron and Osprey cabins. In the Spring of 2001, three new River Log cabins were added-the Angler, Drifter and Paddler cabins. In 2005, we built three more Log cabins–Hook. Line and Sinker. 2017 had us building our largest cabin–the River Lure. It is on the 7 acres with the Angler, Drifter and Paddler cabins.
Keep in touch with the Outfitters as we are already planning new adventures for the next 50 years.


Here is a  a list of our Great Staff  over the years…SRO staff 1970-2019 and more.
In memory-Joe Sottosanti and Jackie Sottosanti.
Present Owners–Nancy Goebel, Christian Goebel, Nancy Sottosanti, Lisa Sottosanti-Gander and Cara Sottosanti
Thanks to our staff for a great 51 years & more…
& Thanks to all our friends who have loved and shared all the many good times on the great Shenandoah River with us…
The owners & management
Plan your trip now to meet our present Staff and to experience the legendary, beautiful Shenandoah River…
Interested in Jobs and joining "our Family"? Mail to:canoes@shenandoahriver.com
"We were grateful to you for your energy and time…and seeing all of your Smiling faces!" Proctor Academy
SRO Gazette 2020 to view and print out!
Download our 8-page 
celebrating Fifty seasons of Friends, Family and Fun!
-info you can take with you!
Shenandoah River Outfitters, Inc.
Camp OutBack &
Shenandoah Canoe Company
River Log Cabins Rentals

6502 S Page Valley Road
Luray VA 22835
800-6CANOE2 (800-622-6632)
or 540-743-4159
canoes@shenandoahriver.com