THE WOOD DUCK, BLUE HERON, & OSPREY
Our smaller Shenandoah River Log Cabins.
Unplug! Chill Out! No WiFi!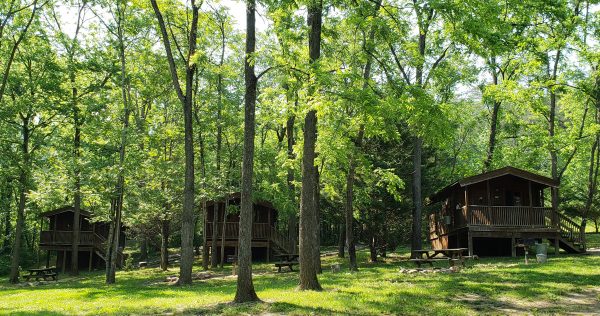 Relax on the banks of the Shenandoah River or jump right in to swim, canoe or tube. The fishing is great–the best small mouth bass fishing in Virginia!
Relish in the sounds of the wind in the forest or watch for the wildlife as you hike in the nearby National Forest! Deer, turkey, eagles and more! Retreat to the front porch to sit and watch the moon rise!

Each cabin has two rooms with a double bed/bunk bed in each room and is set for up to 6 persons. The back room has the shower stall bathroom. The front room has the mini-kitchen area and table and chairs. Outside is a picnic table, charcoal grill and fire pit for each cabin. There is a bonfire area down by the river about 100 yards away.

If bring your pet ($15/pet/night) must be current on shots and kept on leash
Here are reviews of our cabins

Spring , Summer & Fall Rates
Wood Duck, Blue Heron & Osprey
$160 per night Friday & Sat
$125 per night Sunday - Thurs
4 nights mid-week $450
7 nights $850
add 10.3% tax
Pets $15/pet/night
Linens/towels $25/bed/visit
(Prices subject to change)
The River in Front of the Cabins Video
We have a lock box on the door of each cabin. When paid in full, you get the code and can go directly to the cabin. The cabins are 'pet friendly' and 'smoke-free'. No camping at cabins or at river is allowed. Max. of 6 in each cabin. Each additional person will be charged $100/person/night.
These cabins are pet friendly at $15/night/pet!
These 3 cabins are 13 miles from Luray, Luray Caverns and 5 more miles to the entrance to the Shenandoah National Park. The cabins are 3 miles passed the Outfitters store. (GPS 108 Outfitter's Circle, Luray VA 22835
The cabin check in time is after 4 PM and check out by 10 AM which gives us more time for cleaning.
All cabin guests need to bring their own towels, bed linens, or rent them for $25/bed/visit
Online reservations are necessary for River trips. Numbers will be limited so reserve soon.
Come out to where you can still enjoy the mountains and the river. Bring your fishing pole!
Thank you,
The staff and owners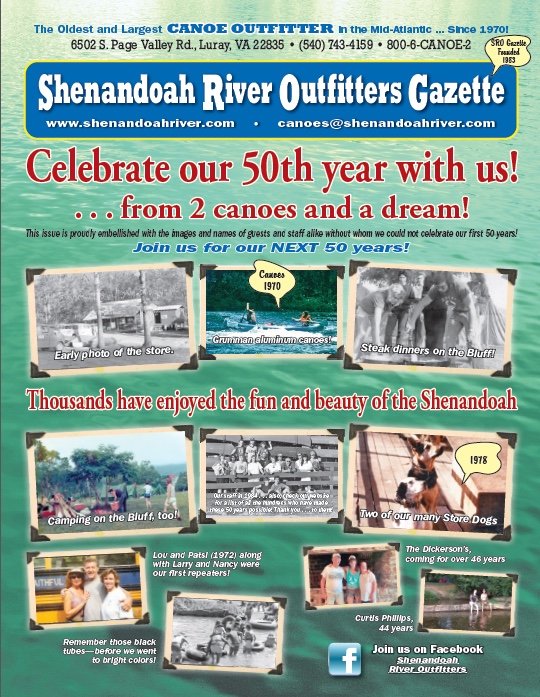 Download our 8-page 
SRO Gazette
-info you can take with you!
Shenandoah River Outfitters, Inc.
Camp OutBack &
Shenandoah Canoe Company
River Log Cabins Rentals

6502 S Page Valley Road
Luray VA 22835
800-6CANOE2 (800-622-6632)
or 540-743-4159
canoes@shenandoahriver.com