The Angler, Drifter and Paddler Cabins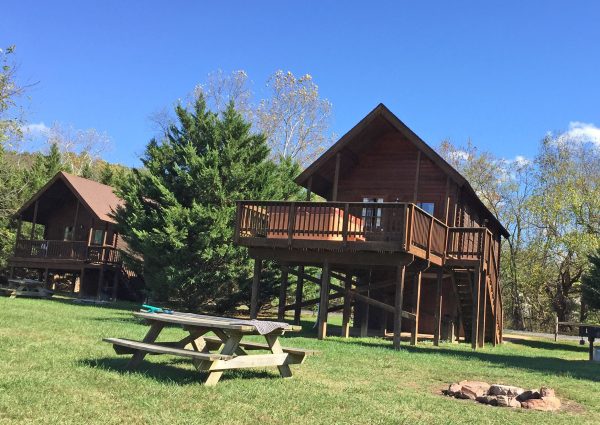 The Angler, Drifter and  Paddler Log Cabins are on 7 acres of Shenandoah River front acreage — for the country experience!  Seventeen miles from Luray — where the Stars shine bright!
Each of these cabins have a queen-bed bedroom with a 'propane fireplace', a mini-kitchen, shower stall bathroom; a living room with a double-bed futon; and a loft area with a double-bed. Each cabin is set up to sleep 6 max.

The mini-kitchen has 2 stove top burners, sink, microwave, toaster, coffee pot and refrigerator (no oven). All the dishes and pots you will need are here. The cabins have heat/AC and Direct TV. No WiFi and limited cell service.
There is a 5-person hot tubs on the decks of Drifter and Paddler cabins. The hot tub for the Angler cabin is in a private Gazebo. There is a picnic table,  charcoal grill and fire pit for each cabin.
The Shenandoah River is just behind the tree line down from the cabins. You can easily walk to the river or drive down the driveway on the other side of the meadow. At the river, there is a picnic area, fire pit and easy access to the river for canoeing, fishing and swimming.
If bringing your pet ($15/pet/night) must be current on shots and kept on leach
Here are reviews of the cabins
 There is limited satellite WiFi for email and light browsing but not streaming. Little cell phone service. The password will be in your confirmation and on the box. Cell service is limited with Sprint/T-mobile working best. Enjoy the sounds of nature instead.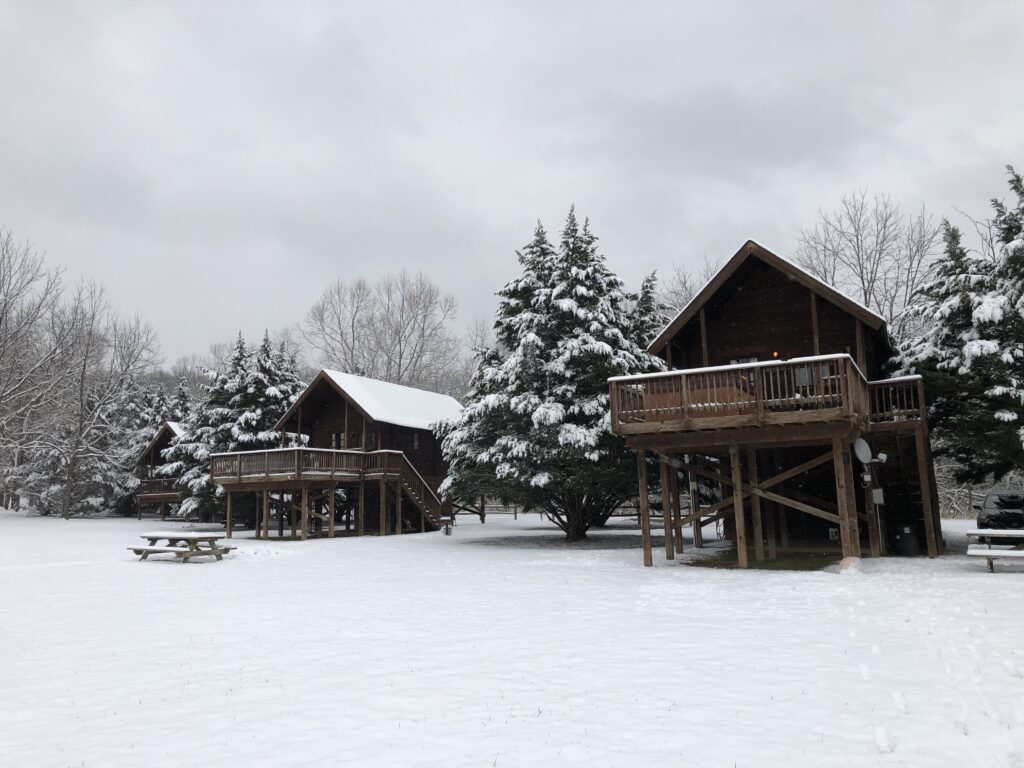 Spring & Fall Rates
Spring, Summer & Fall Rates
$210 per night
4 nights mid-week $740
7 nights $1290
add 10.3% tax
*Holidays-Full rate
call for other rates
Pets $15/pet/night
Linens/towels $25/bed/visit-if suppling them
(All rates subject to change)
Winter Rates
Dec 1 to Feb 28
$195 per night Friday & Saturday
$175 per night Sunday -Thursday
4 nights midweek $620
7 nights $1000
add 10.3% tax
call for other rates
Pets $15/pet/night
Linens/towels $25/bed/visit-if suppling them
(All rates subject to change)
These cabins are located about 17 miles from Luray VA and about 7 miles of gravel road  pass the Shenandoah River Outfitters Store. The setting is one of woods, fields, mountain views and  the banks of the Shenandoah River for great fly & bass fishing and just playing in the river. Just up the gravel road is access to George Washington National Forest for hiking, bird  and animal watching. Here is a list of hikes in the area.
We have a lock box on the door of each cabin. When paid in full, you get the code and can go directly to the cabin. The  Angler, Drifter and Paddler cabins are 'pet friendly' and 'smoke-free'. No camping at cabins or at river is allowed. Max. of 6 in each cabin. Each additional person will be charged $100/person/night.
Comment from one of our guests this winter:
Weekend away in great little cabin–Between all the hard work we do, and the holidays, my boyfriend and I needed some time to disconnect from work and reconnect with each other. The paddler cabin was perfect for us. Cozy and comfy, we had all we needed to cook fun meals for each other, watch silly TV on Dish TV, gaze at a barely believable number of stars from the hot tub on the deck, and say hello to some lovely woodland creatures who walked by on their way to the river. I left thinking about when we can plan to come back!
The cabin check in time is after 4 PM and check out by 10 AM which gives us more time for cleaning.
All cabin guests need to bring their own towels, bed linens, or rent them for $25/bed/visit
Online reservations are necessary for River trips. Numbers will be limited so reserve soon.
If bringing your pet ($15/pet/night) must be current on shots and kept on leach
Come out to where you can still enjoy the mountains and the river. Bring your fishing pole!
Thank you,
The staff and owners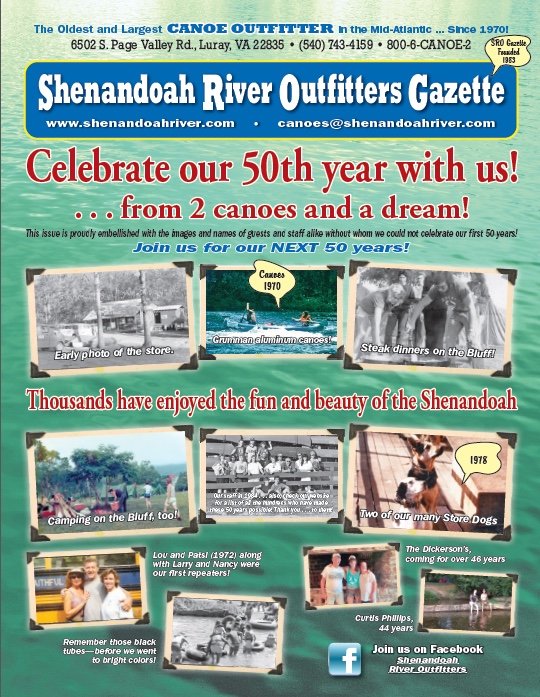 Download our 8-page 
SRO Gazette
-info you can take with you!
Shenandoah River Outfitters, Inc.
Camp OutBack &
Shenandoah Canoe Company
River Log Cabins Rentals

6502 S Page Valley Road
Luray VA 22835
800-6CANOE2 (800-622-6632)
or 540-743-4159
canoes@shenandoahriver.com